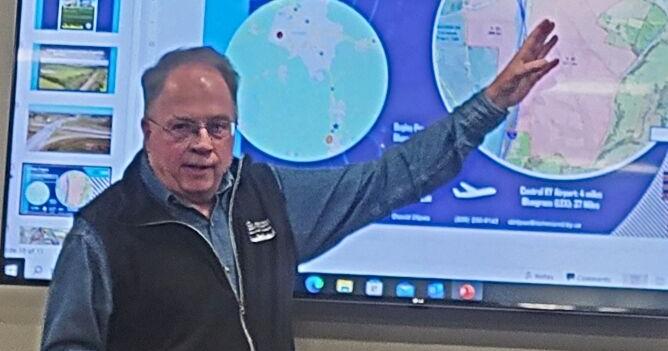 Stipes: Berea, Richmond, Madison ready for economic development | New
All the pieces are in place for economic progress in Berea, Richmond and Madison County, according to David Stipes, executive director of the Richmond Industrial Development Corporation.
Stipes was in Berea last week for a meeting of the Berea town council's economic development committee, where he listed the many benefits available to local communities to secure future jobs.
For starters, Stipes noted that the county is home to two universities, Berea College and Eastern Kentucky University, but perhaps more importantly to potential employers, Madison has a growing school system that can serve families. future workers.
"We're blessed to live in a community where they're building new schools because business or industry prospects are looking for a community that does," Stipes said. "They see a thriving community with working-age people moving up through the education system. This does not happen everywhere in Kentucky. Some communities are closing schools because they have lost population. We don't have that problem here.
Another benefit Stipes noted is the growth of Kentucky's auto industry, which he says creates huge opportunities for small businesses that support big employers like Toyota, Honda and Ford.
"The fallout from these big factories might actually send us more business," Stipes said. "Some of these vendors may choose to locate in Richmond, Berea or Madison County." Stipes noted that Richmond is already home to auto suppliers, as is Berea.
In two other examples of the ripple effect, warehousing and logistics companies are starting up to supply automotive and vehicle component factories in Berea.
In her report to the Economic Development Committee, Berea Business Development and Tourism Manager Donna Angel said two warehouse/delivery operations are opening in Berea to supply local industry. One company is opening a distribution center for Hyster and Hitachi, supplying manufacturing components quickly and as needed, while another company, Templeton Industries, will supply composite parts for Hyster-Yale forklifts.
One area where Berea is at the forefront, Stipes said, is building ready-to-build sites where companies can move in and start production in a relatively short time. A so-called specification building is nearing completion on Farristown Industrial Drive, a development that Stipes says is what potential manufacturers want.
"The way things are here in the state, there's a need for ready-to-build sites," Stipes said, noting that Richmond is seeking funding for a massive 350,000 square foot spec site in the one of their three industrial parks. "We have to prepare for them [manufacturers]. We need to make sure that when a prospect comes along, we have something for them. For someone who is under contract and looking to produce assembly parts in a year, this is what he is looking for.
During the meeting's Q&A segment, Berea City Administrator Rose Beverly asked if there was any chance that Berea, Richmond and Madison County could work together to retain prospects.
"To me, it's a big deal that if they come to our house but we don't have what they need, we want to help them stay in the county, even if it's not in our town. "Beverly said.
Stipes agreed that it was mutually beneficial for an employer to stay in Madison County. But Berea Mayor Bruce Fraley went further, expressing hope that the three governments could work together to find an employer who could benefit all residents.
Fraley cited examples of successful collaboration between Berea, Richmond, and Madison County, including the Madison County Airport Board, the 911 board, and a recent collaborative effort in which the three governments requested assistance from the Bluegrass Area Development District to Obtain a grant for a joint economic development study. This study would be used to provide data to attract employers to Madison County, touting benefits such as the highly skilled workforce that is currently employed on the chemical weapons demilitarization project at Blue Grass Army Depot.
Fraley added that since a united effort from Berea, Richmond and Madison County could be more likely to attract future jobs, he hopes the three governments will explore ways to collaborate in the future, such as the formation of a combined economic development committee.
"Over time, I think you'll see Richmond, Berea and Madison County working together," Fraley said.
In conclusion, Stipes said the future is bright for all three communities as this area is increasingly a place where Central Kentucky residents want to live.
"Madison County is the shining star that's going to gain population," Stipes said, noting communities on the freeway will be Kentucky's next growth areas. "We have the land, the people, the location, and we have a lot of opportunity here."