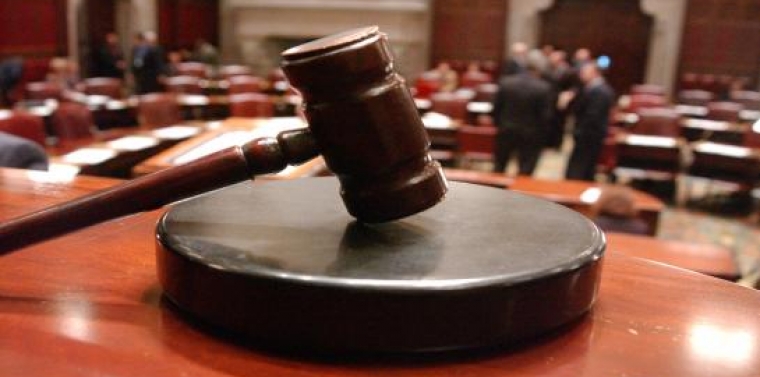 Senator O'Mara's Weekly Column "From the Capitol" – for the week of July 4, 2022 – "True law and order is missing from Albany's agenda"
It's an Albany Democratic mindset that has gripped the highest levels of New York government and tells much of the story of how and why New York is routinely cast as a pro-criminal, anti-law and order, soft-refuge on crime.
Senator O'Mara offers his weekly perspective on many key challenges and issues facing the Legislative Assembly, as well as legislative actions, local initiatives, state programs and policies, and more. Stop by every Monday for Senator O'Mara's latest column…
This week, "True law and order is missing from Albany's agenda"
It continues in New York State under one-party rule.
Gov. Kathy Hochul called the state legislature to a special session late last week in the name of making the state safer and the agenda did not include any action on measures that de many criminal justice experts and law enforcement officials, would truly begin to make New York State safer. .
Only in New York.
At a time when our state is becoming more crime-ridden by the day and polls continue to show that personal safety is the issue at or near the top of the public's priority concerns, Governor Hochul and the Democratic supermajorities of the 'Legislature continue to look away every day from the anarchy, chaos and violence in too many places.
A Siena College survey in early May reported that "a quarter of voters say crime will be the most important issue in determining which candidate wins their support for governor in November…economic issues combined – including jobs, inflation and the cost of living – are also identified by a quarter of voters as the most important issue.
Residents of New York state feel insecure and fearful of making ends meet, and Governor Hochul calls an emergency legislative session that remains silent on these concerns.
This is a shocking statement about the current state of our state.
Throughout the six months of this year's regular legislative session, which ended in early June, the Governor and Democratic leaders in the Senate and State Assembly continued to advance their next steps in what has been – starting with former Governor Andrew Cuomo – a long and dismal stretch of pro-criminal action wreaking havoc on our streets and in our neighborhoods.
It's an Albany Democratic mindset that has gripped the highest levels of New York government and tells much of the story of how and why New York is routinely cast as a pro-criminal, anti-law and order, soft-refuge on crime.
Albany Democrats continue to push for a sweeping overhaul of our criminal justice and public safety system, to the point that many New Yorkers, as evidenced by the latest poll by Siena and others, no longer recognize or approve more of the direction in which it is heading.
They keep putting more and more New Yorkers at risk and worried about safety in the places where they live and work.
Just when you finally think they've gone too far, it turns out they think it's not far enough. This Misdirection Map includes:
> disastrous and dangerous reform of bail and discovery since 2019;
> Extremely lenient parole policies that have put cop killers and child murderers back on the streets and resulted in a veritable escape from prison for thousands of felons and convicts;
> the attempt to massively erase criminal records as if millions of them had never existed;
> a growing mentality of "defunding the police";
> closing state prisons, including Southport which housed the worst of the worst convicts, Willard which provided crucially important drug treatment and Monterey Shock with its renowned low recidivism record, while crippling correctional discipline of violent inmates and ignoring the rising tide of violence in state prisons;
> turning our backs on the victims of criminal acts; and
> a host of other pro-crime, anti-law and order initiatives and policies.
In response, the Senate and Assembly Republican conferences called for a much different approach. Our approach would restore a strong commitment to law and order, restore confidence in public safety and refocus on safer communities.
Among the many proposals in the Senate, for example, our Take Back New York program:
> reinvest in law enforcement and reject an increasingly pervasive and deeply troubling "defund the police" movement in the Legislative Assembly;
> ending cashless bail, restoring judicial discretion and rejecting proposals such as the general erasure of criminal records;
> Fix the clearly unworkable discovery and "quick trial" laws that have led to a revolving door system for repeat and violent repeat offenders;
> Refocus New York's parole process so that it prioritizes the protection and rights of crime victims and their families, and never releases the most violent criminals, including cops and street killers. children, in the street; and
> Invest in proven mental health and other services to ensure people struggling with addictions, homelessness and mental illness get the help they need.
There have been and always will be legitimate debates about the root causes of crime and violence, and what the government's response can and should be.
In my view and the view of many others, the New York State government should never be tasked with enacting laws that embolden the criminal element of society.
The government should never be on a mission to make New York's criminal justice system more lenient, permissive, or open to abuse.
Unfortunately, this has been a big deal for Democrats in Albany under one-party control and we all continue to pay the price.
###