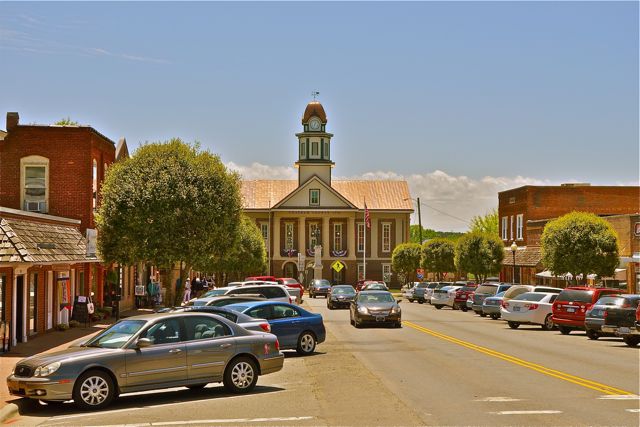 'On the precipice of giant things': Chatham officials optimistic about county development
By Ben Rappaport, Chatham News + Record Staff

Speakers at Tuesday's Chamber of Commerce development briefing touted recent economic development announcements and growth as evidence that Chatham County is heading in the right direction.
The networking event, held at the Chatham County Agriculture and Conference Center, attracted 250 people and featured five keynote speakers who discussed a range of issues including proposed development plans and the state of economic development in their respective regions.
Karen Howard, Chair of the Chatham County Board of Commissioners, said she was proud of how Chatham County has developed over the past decade. She said, however, that the growth has brought new issues like broadband access into the spotlight.
"Broadband access is one of the county citizens' top complaints," Howard said. "The pandemic has shown us how important broadband access really is. We know there is a lot of work to be done in this space and that continues to be our primary legislative focus.
Howard said there was a positive outlook for increased broadband access due to new government funding dedicated to providing solutions, including the GREAT Grant program to expand access to technology in the state's rural counties, including Chatham.
Speaking of Siler City, Pro Tem Mayor Thomas "Chip" Price III said the housing boom in the city is positive.
"We've been very lucky and blessed for our growth and industry partners," Price said. "There is an energy and a buzz in town. Previously, the only buzz here was a flying bee.
Price said future improvements to the area include a $2 million investment in the Siler City Wastewater Treatment Plant, maintenance upgrades for the airport and the rerouting of 3rd Street to improve downtown access. -city.
"We don't put all of our eggs in one basket," Price said. "Any problems we have now are good problems to have. They show that we are continuing to grow and that we have the facilities to continue growing.
Price said the sewage plant upgrades are about halfway done and will be finalized by the end of 2023.
New improvements in Siler City and the return of events like the Spring Chicken Festival to town after the pandemic show positive trends for the town. The city also has 3,118 proposed homes and more than 90 acres of commercial development, according to Price.
"We're on the precipice of giant things happening in Siler City," Price said. "There is a long way to go, but there are many exciting projects ahead.
Pittsboro City Manager Chris Kennedy said there are more than 27,000 homes on the books and ready to be built there, mostly tied to Chatham Park.
"It's a nerve-wracking time in many ways, but we're working with our partners around us," Kennedy said. "We are working to solve the puzzles that have perplexed us for so long."
Kennedy said improvements to Pittsboro's sewer line and water quality are key parts of those solutions.
The other major development discussed at the briefing was the VinFast automobile manufacturing plant, the state's largest economic development project. It has been valued at over $4 billion and it is estimated that it will create 7,500 jobs in its first phase, and an additional 12,000 jobs related to this development. Michael Smith, president of the Chatham County Economic Development Corporation, said Chatham County's selection was a sign of all the growth the region expects to see.
"Our site is less than an hour from 22 North Carolina counties," Smith said. "When you think about the ability to help families, it's really dramatic. People will come here for these good jobs.
Smith said with the influx of jobs, housing projects and improvements, there is no limit to the level of economic development to come in Chatham County.
Greg Stafford, the developer of SOCO in Pittsboro — a new and renovated section of downtown that will include restaurants and more — also spoke.
---
Chapelboro.com has partnered with Chatham News + Record to bring more Chatham-focused stories to our audience.
the Chatham News + Record is Chatham County's source for local news and journalism. The Chatham News, established in 1924, and the Chatham Record, founded in 1878, have come together to better serve the Chatham community as Chatham News + Record. Covering news, business, sports and more, the News+Record strives to strengthen community ties through compelling coverage of life in Chatham County.
Related