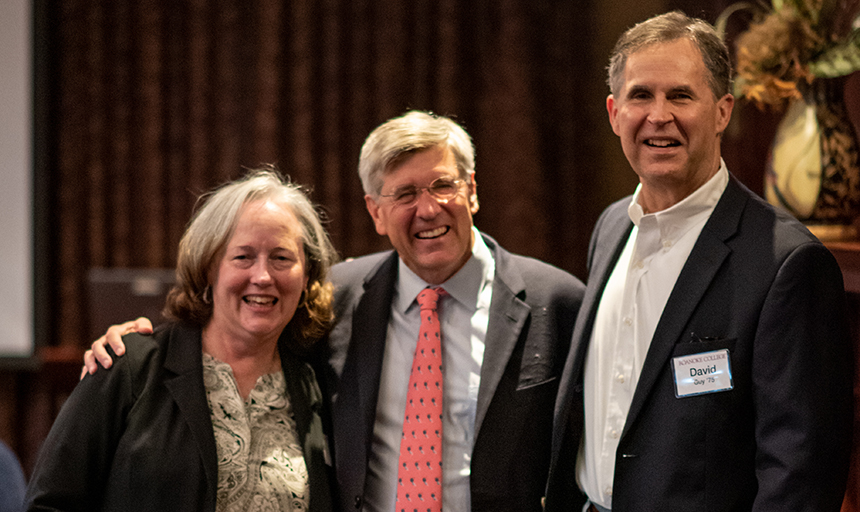 Launch of a new series of economic conferences with a "provocative" speaker
On Thursday evening, approximately 100 members of the campus and the local community gathered in the Wortmann Ballroom for the first-ever event in the David L. Guy Lecture Series.
The lecture series, through the Center for Economic Freedom at Roanoke College, will bring speakers to campus to advance the centre's goal of exploring the role of economic freedom and fostering prosperity and growth, in a liberal arts setting.
The keynote speaker was Stephen Moore, an economic writer and political analyst who wrote for the Wall Street Journal and appears regularly on television. He focuses on matters of budget, taxation, monetary policy and more, and recently advised President Donald Trump.
Moore's lecture was entitled "Is Socialism Coming to America?" and largely focused on Moore's view that government growth could be detrimental to the US economy. The Young America's Foundation co-sponsored the event alongside the Center for Economic Freedom, and the event was broadcast live for those who were unable to attend in person.
Between the charts and graphs on tax cuts, Trump's policies, and the policies proposed by current President Joe Biden, Moore has sprinkled bits of wisdom he has acquired over the years.
"Chase your dream," Moore said, "because if you love it, you'll be good at it."
During the evening's question-and-answer segment, Moore specifically asked people who disagreed with him to speak up. A few students picked him up, arguing with him over the claims he made during his speech. Among them was Zain Masri '23, an international relations and political scientist who urged Moore to clarify his thoughts on the actual arrival of socialism in the United States.
While Masri didn't agree with everything he heard from Moore, he said he enjoyed the lecture and looked forward to more events in the David L. Guy lecture series. .
"I think it's nice to have thought-provoking speakers – speakers who challenge the ideas of the community at large," Masri said.
Youssef Labriny '22 called Moore's speech "provocative" and said he looked forward to other different perspectives from future speakers.