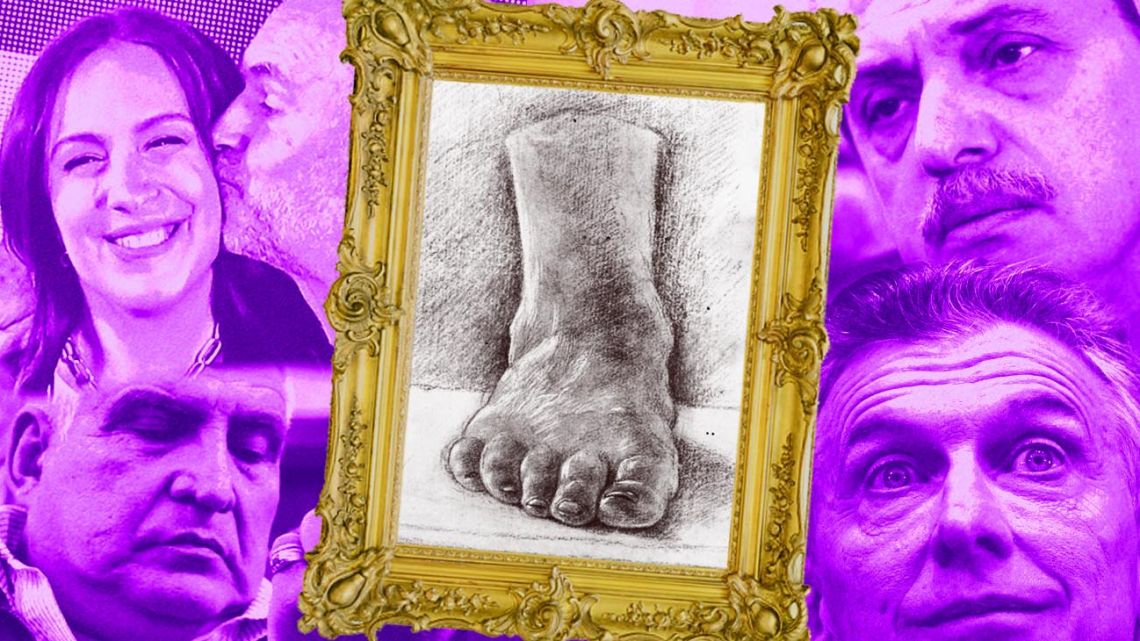 Hours of Buenos Aires | "The Foot", the "Gestapo" and the dark basements of Argentine democracy
The recent so-called "Gestapo" affair brings together many of the worst characteristics that make up Argentina's socio-political and economic system. On the one hand, we have a serious bastard who abused his power as a union leader to enrich himself and torment the business world, which ultimately led to a dramatic reduction in construction activity in the city of La Plata, the capital of the province of Buenos Aires. On the other hand, we have an administration which has earned its right to govern the region – and the Nation – while being wrapped in the robes of republicanism and respect for institutions, but which has relied on an illicit collusion between the 'State, justice, intelligence services and others to persecute its political opponents. And finally, we have the current administration, which won an election with the promise of a centrist president who would reduce polarization, using the Federal Intelligence Agency (AFI, the current embodiment of intelligence services) to disclose compromising information on his political rivals at key moments to hide their incompetence after two years in office.
A 2017 video leaked to the press after AFI administrator Cristina Caamaño – a Kirchnerite – presented it to a judge in La Plata to be assessed as potential evidence of wrongdoing during governorship scored by María Eugenia Vidal. In this video, the ex-minister of labor of the ex-governor, Marcelo Villegas, tells a group of business leaders, officials (including the mayor of La Plata at the time) and a few spies from AFI that: "If I could have a Gestapo, a force of shock to put an end to all the unions, I would go ahead. In addition, Villegas calls on the group to take legal action against the trade unionists, noting that the judiciary, including the attorney general, was ready to cooperate. The main target was Juan Pablo 'Pata'("the foot") Medina, head of the Union of Construction Workers of the Argentine Republic (UOCRA) in La Plata.
"The Foot" was a pretty big con artist who had become feared by the La Plata business community. He had amassed a nice little fortune by the time he was detained. According to journalist Emilia Delfino, writing for Perfil at the time, Medina owned seven properties, including one in the exclusive seaside town of Cariló, a speedboat, several vans and luxury vehicles. In the 2016 voluntary tax amnesty scheme (known as'blanqueo') set up by the Mauricio Macri administration, it declared funds worth some eight billion pesos, or nearly $ 570 million at the time. With its control over the union, "Le Foot" literally controlled the construction industry in the city, forcing developers to shell out hundreds of millions of pesos to build and operate in La Plata. His biggest business seems to have been catering, where companies operating in the city were forced to purchase lunch services from Abril Catering, El Rey del Cielo and Mejor than in Casa, which were directly or indirectly controlled by the clan. Medina. In 2017 alone, they recorded an estimated income of almost 100 million pesos. State-owned energy giant YPF was the main customer, but every company had to pay to play, including Paolo Rocca's Techint, Contreras Hermanos, BTU, Esuco, Skanska and Panedile, to name a few. some. Medina was eventually charged with illicit association, extortion and corruption, and detained after locking himself in the union's headquarters and threatening to "burn the province of Buenos Aires" if the police came looking for him. He eventually went to his home, where gendarmerie officers found him smoking a hookah pipe.
Yet despite all this, Medina's criminal record does not justify the formation of a task force to put him behind bars on the basis of unconstitutional and illegal collusion between the provincial government and the judiciary. In a recent television interview, Vidal claimed that the video footage showed a normal business meeting, in an official government office, in daylight, and that it included officials from his government working with the private sector. When asked repeatedly why the AFI spies were there, she said it was the agency's responsibility to explain it in court. Further, she pointed out that she herself had been spied on by the Macri administration's AFI, alleging that the tape had been illegally recorded. Yet that does not allow his Minister of Labor to suggest that he would like a Gestapo or to note that he had judges ready to go.
This latest scandal also sheds light on the Kirchnerite maxim of calling the Macri administration a "rat's nest" which has used the judiciary, the intelligence services and its relations with certain mass media to persecute political leaders. Not only did the Macri administration actually engage in these behaviors, but it left behind a ton of evidence. Cristina Fernández de Kirchner and other former government officials who are under investigation for corruption use this opportunity to whitewash their crimes, developing the theory of "lawfare". What to them is a continental and systematic plan against progressive rulers, orchestrated by financial interests in the "imperial" United States, is nothing more than the political pendulum of Latin America at work, with weak institutions. Cristina and her cronies abused the judiciary to get rid of problems during their tenure while aggressively pursuing their opponents. Sadly, Macri's Cambiemos coalition followed exactly the same footsteps despite winning the 2015 presidential elections and the 2017 midterms on an anti-corruption platform.
Thus, it brings together the second Kirchner administration, Macri's four years in government and the current tenure of President Alberto Fernández, as all three have relied on "dark care of democracy" for political gain. In his inaugural address, Alberto claimed he would eliminate collusion between shady governments, a dirty justice system and sketchy intelligence agencies. He knew, however, that his political leader's main concerns were with corruption investigations directed directly against her and her family. Throughout his rule, federal judges gradually released former Kirchneri officials from behind bars (including Medina), cleared Cristina or refrained from prosecuting some pending cases and went on the offensive against Macri.
Argentina's "Foots" are a vital part of its development problem, as are a twisted and biased justice system and the use of the state for party politics and revenge. Vidal, who seemed to have good intentions and a clean course, will not come out of this case unscathed.