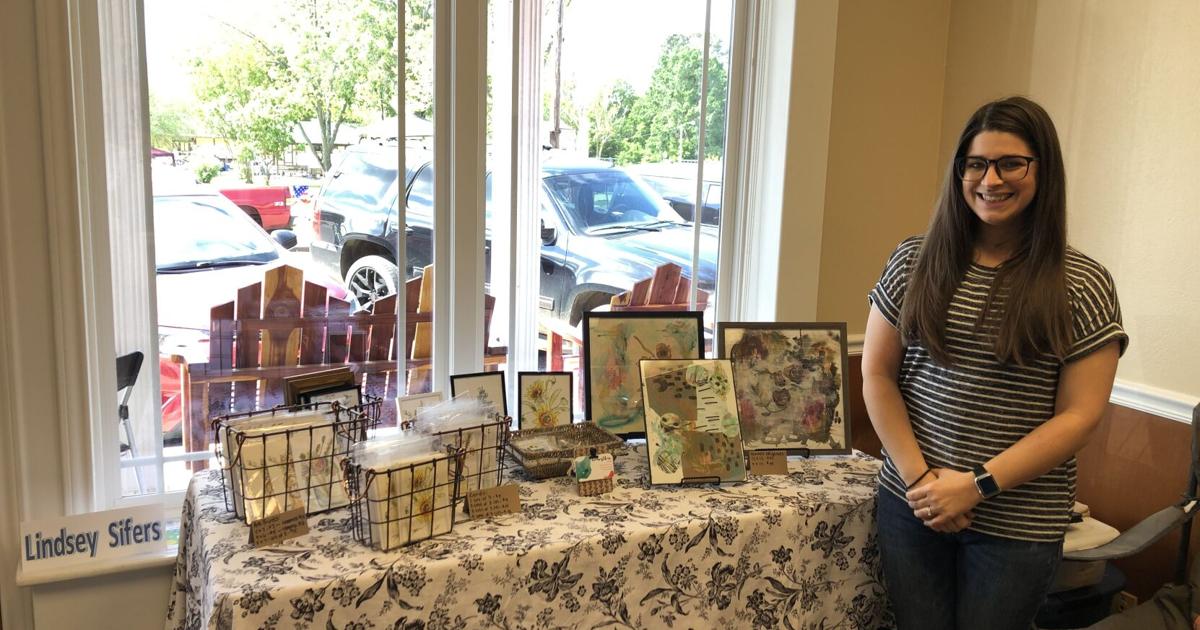 Frankston Economic Development hosts Art Walk on The Square | News
The Frankston Economic Development Corporation has extended an invitation to residents and visitors to attend its annual art walk in the square from 10 a.m. to 4 p.m. on Saturday, April 30.
"The Art Walk is free to the public and everyone is welcome to come and enjoy their hometown atmosphere and local talent," said Gigi Selman, EDC Board Member and promoter of the event.
According to Selman, the Art Walk was originally planned to showcase the incredible artistry of Frankston and its surroundings. Additionally, the event would draw attention to the city park and the businesses surrounding it.
"The first Art Walk, in 2018, was a great success and many artists from years past will return," Selman said. "At first, artists were able to move into the many empty buildings in Frankston's town center plaza. We wanted people to see the possibilities of bringing businesses to our downtown plaza. It worked so well that we now have businesses in almost every building downtown, so we believe our efforts have been well rewarded.
The Art Walk 2022 will bring together artists, photographers and artisans. There will be a varied display of artistic work, ranging from oil painting and drawing to sculpture and quilts.
One of the more unusual artists is Marla Garber, who paints and makes amazing items from gourds.
Willy Bull returns with its selection of artisanal knives.
Staci Saunders and Heather Burris will exhibit their colorful and inspiring paintings.
There will also be several newcomers this year.
Tami Sorenson will be there to show off her beautiful mosaic creations and furniture artist Sue Mikesell takes simple pieces of furniture and transforms them into interesting pieces.
As always, Tommy Davis will be opening his business to show off his handmade cedar creations, such as swings, tables and chairs.
"The list goes on and on and on," Selman said. "The incredible talent brought together for this small town art walk will surprise and entertain you."
Selman said the family of the late Susan Burks Beard, who are beloved in the community, will open their studio to show off her art and honor her memory.
"It would be impossible to have our Art Walk without including his talent," Selman said.
This year, some of the participating artists will set up outdoors on the sidewalks and in the city park and some will be hosted by businesses in the square. Businesses and building owners participating in this event include The Bank-quet Room, Atwood Hats, Tommy's Woodworks, Illusions WaxWorks, Burnt Bunz, The Bronze Cactus, Krajca Electric, Wash + Cleaners, Silvermoon Tack and Gifts, The Frankston Lodge and Paul and Linda. Streck.
"Their participation is greatly appreciated, as their involvement in this effort helps energize our treasured downtown," Selman said. "The Art Walk will allow the public to not only enjoy the art exhibits, but to see all the places that unite our small town."
There will be live music throughout the day to entertain visitors. Food will be available during the event with at least two food trucks.
Visitors and residents can also explore a new addition to the town square, the Frankston Farmer's Market. Hosted by Safire Norris, Selman said he promises to have a wide variety of selections.
"We also have a beautiful park, a wonderful library, an interesting museum and a great playground as well as the attractions offered by artists and others during the event," Selman said.
The Frankston Library and Museum will be open to the public and will host their usual book sale. Nearby is the scenic park with its popular Little Bit Playground.
In addition to our Art Walk artist exhibits, The Maydelle Country Winery will be set up in the square for a special wine tasting.
Clint Selman will renew his beer tasting this year, which will be installed in the Bank-quet room.
The Windmill Café and Milano's Pizza will be open in the square and ready to serve the public with their favorite dishes. The unique Bank-quet room will offer a buffet.
Shop now in the plaza, such as Atwood Hats, The Bronze Cactus, Burnt Bunz, Silvermoon Tack and Gifts and Illusion WaxWorks.
The organizers hope that those who come to observe the talented artists will enjoy the experience and appreciate the work that has gone into planning this event for the fourth year.