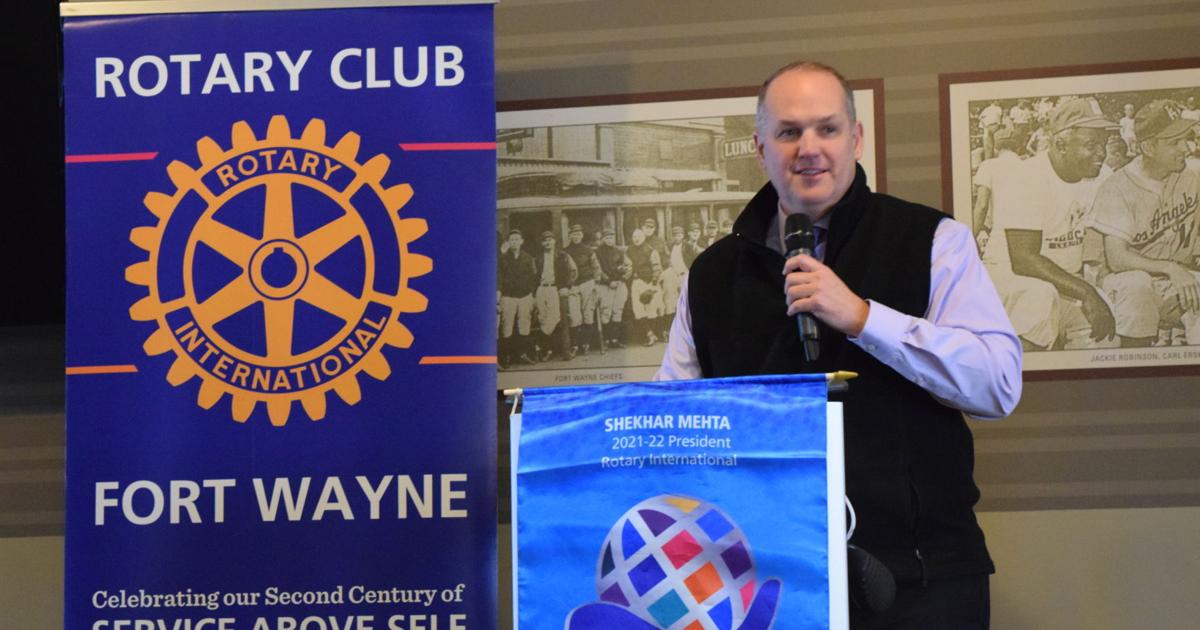 February 10 – Rotarians hear about Allen County's economic growth plans | fwbusiness
Good things are happening in economic development in Allen County. However, if the county plans to increase its population over the next decade, it will have to do so by attracting people from other states.
This was part of the message delivered by John Urbahns, President and CEO of Greater Fort Wayne, Inc. at the Rotary Club of Fort Wayne meeting on Feb. 7.
Urbahns, along with Ellen Cutter, director of economic development for Greater Fort Wayne, Inc., presented the vision to guide the county's economic development in the recently released plan, called "Allen County Together," or ACT. It was funded by the City of Fort Wayne, Allen County Commissioners, and American Electric Power.
The plan includes "bold" projects in high-growth, innovative, and inclusive areas that continue Fort Wayne's momentum and opportunities in the Southeast Quadrant and in the entrepreneurial community.
Greater Fort Wayne, Inc., which has more than 1,300 members representing 90,000 workers, is focused on growing and sustaining "our people and our capital," Urbahns said.
Fort Wayne has seen positive net in-migration — more people moving into the city than leaving it — for five straight years. Last year, Fort Wayne was No. 1 out of 58 metros in the Great Lakes region. Last year, the United States experienced its slowest annual growth on record – 0.1% when it usually averages 0.7%, Urbhans said. The United States added less than 400,000 residents.
The region's growing population, and with it the workforce, cannot rely on natural population increases alone, as the number of births to deaths in Indiana was only 250 l last year.
Similarly, net immigration from other countries will not provide the necessary numbers.
Therefore, making the county attractive to businesses that will bring workers to live there requires an investment in the community.
Cutter outlined the three growth areas that are defined in the economic development plan with three goals in each area.
• Attract $1 billion in private investment to Fort Wayne's downtown waterfront by 2031. Currently, approximately $150 million in private investment is being made by Indianapolis-based Barrett & Stokely in the mixed-use Riverfront at Promenade Park project and the Lofts at Headwaters Park, both of which will increase downtown housing.
• Attract and develop 2,500 net new high-wage jobs by 2031 in R&D, engineering, IT, regional headquarters and technology-driven growth industries. Two of the recent ventures helping in this area are food packaging maker Sabert Corp's new Advanced Technology Center. on Engle Road as well as IT jobs from Rural Sourcing, which announced in late 2018 that it was opening its sixth software development. downtown Fort Wayne.
• Build 2,500 on- and off-campus student housing—and other amenities associated with local colleges—by 2031 to help Fort Wayne become a widely recognized college town. Approximately 75% of Allen County college and university graduates remain in the area.
• Be recognized as one of the "Top 10 Music Cities" by 2031 through the expansion of festivals, concert venues, training and education, and innovation in the music industry . Fort Wayne's Sweetwater, which recently announced $2 billion in sales, is hiring people from Los Angeles and Nashville, Tennessee. It's also a destination point for producers and musicians, and "they ship thousands of packages every day," Cutter said.
GFW Inc. conducted a perception study.
"We've worked with business brokers nationwide to understand what our reputation is. It's something that we really take for granted in terms of Sweetwater and their national and international reach. People know Fort Wayne because of Sweetwater Sound."
Additionally, after a two-year delay caused by COVID-19, the Middle Waves Music Festival is scheduled for June 17-18 at the Foellinger Theater Campus.
• Become one of the leading "Industry 4.0" automotive technology communities and create 2,500 net new automotive technology jobs by 2031. The Fort Wayne Assembly Plant is "GM's most productive of its North American portfolio," Cutter said. The objective of 2,500 jobs is to prepare and support the objective of electric vehicles. Plus, between Rea Magnet Wire and Superior Essex, "they make wire that goes in every electric vehicle on the planet," she said.
• Enhance Allen County's entrepreneurial ecosystem by launching a $10 million venture capital fund and accelerator by 2026, hosted at Electric Works. Increase the venture capital fund to $25 million by 2031. A study of 600 small business owners and entrepreneurs by Startup Fort Wayne, Don Woods Foundation and Community Foundation found that 51% of respondents said they don't not be aware of available funding or lack the financial capital to sustain and grow their business. "We could be missing half of the deal flow in our community," Cutter said.
Green Bay, Wisconsin, home to half the population of Fort Wayne, has a $25 million venture capital fund that is a partnership between Microsoft and the Green Bay Packers and Kalamazoo, Michigan plans a fund of $50 million. "We don't want the next Steel Dynamics to feel like it has to exit the market to get the funding it needs to grow its businesses."
• Close the disparity gap by providing financing to the underserved and small businesses through expanding the capacity of local community development financial institutions (CDFIs). Deploy $10 million in CDFI financing by 2026 and $25 million by 2031. CDFIs are mission-driven lending institutions and can take on more risk than other lenders, Cutter said. After visiting Louisville, Ky., with community members and seeing CDFI's role in a comparable area southeast of Fort Wayne, Greater Fort Wayne Inc. learned that Allen County's per capita CDFI loans were $53 compared to the national average of $182.
• Build catalytic development projects in Southeast Fort Wayne that attract $100 million in capital investment by 2026 and $250 million by 2031. Approximately 19% of Fort Wayne residents live in the South-East ; however, this quadrant received only about 8% of residential and commercial construction investment 2011-20. If all things had been equal, he would have received another $200 million investment.
• Attract and grow 2,500 net new jobs in Southeast Fort Wayne by 2031. The Southeast does not have the major employers that the other quadrants have.
"What in your plan will encourage development in the southeast?" asked Rotarian Dave Van Gilder. Currently, developers are opting for farmland, or cornfields as Van Gilder called them, in other areas where they are rezoned for housing.
The city recently completed a housing demand study that included the needs of the Southeast. However, Cutter said, when developers are unable to find comparisons for things like townhomes they want to build in the Southeast, Greater Fort Wayne Inc. can work with CDFIs to seek out project opportunities. in these areas of cornfields.
The other piece, Urbahns said, is to have the infrastructure available in key corridors such as the Interstate 468 loop at Adams Center Road and US 27, so growth there would be more easy.