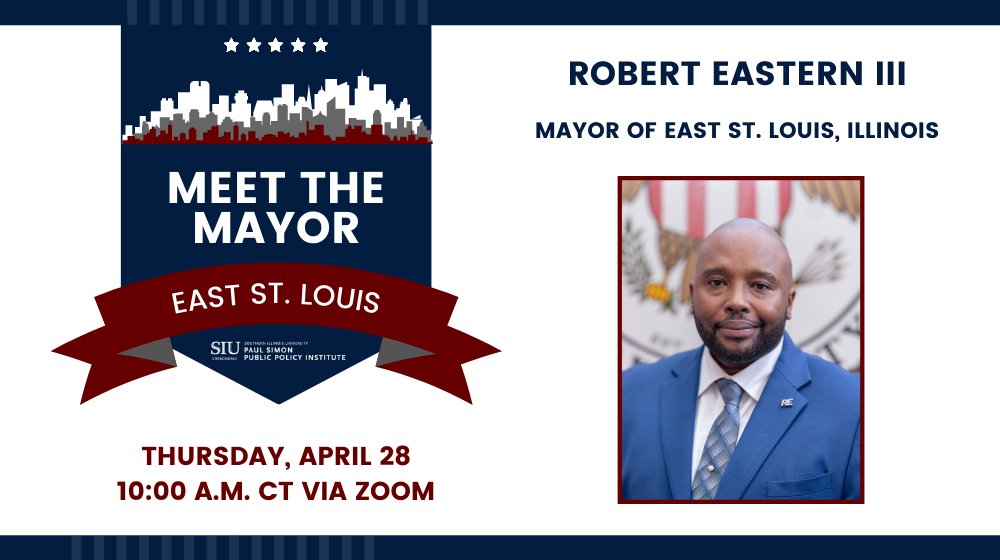 East St. Louis Mayor to Discuss Economic Development and City Budget
April 22, 2022
East St. Louis Mayor to Discuss Economic Development and City Budget
CARBONDALE, Ill. – East St. Louis Mayor Robert Eastern III is the next guest in the Meet the Mayor virtual series hosted by Southern Illinois University Carbondale's Paul Simon Institute for Public Policy.
Eastern will join institute director John Shaw for a chat on zoom at 10 a.m. on Thursday, April 28. They will discuss Eastern's political career and recent developments in East St. Louis, including the city's new Public Safety Center and Ameren's Solar Energy Center.
They will also discuss the mayor's efforts to stimulate the economy in East St. Louis and balance the city's budget.
"Being mayor of East St. Louis is a tough job, especially given the city's economic challenges," Shaw said. "We look forward to hearing about Mayor Eastern's plans to strengthen his city and his hopes for its future.
The event is free and open to the public; registration is required at paulsimoninstitute.org/events. Participants are encouraged to submit questions for the East on their Registration Form or email them to [email protected]
Eastern served on the East St. Louis City Council for two years before being elected mayor in 2019, defeating the city's then-incumbent mayor with his "Heart for the People" campaign. Eastern is Vice President of the Illinois Municipal League.
Meet the mayor is a series of virtual conversations in which the institute hosts interviews with civic leaders in Illinois.