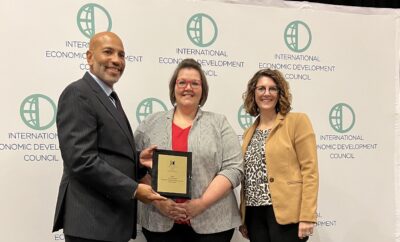 Conroe EDC Recognized for Excellence in International Economic Development
OKLAHOMA CITY, OK – The Conroe Economic Development Council (CEDC) has received two 2022 Economic Development Excellence Awards from the International Economic Development Council (IEDC).
The CEDC won an Economic Development Gold Award in the Digital Media category for the "More is Made Here" marketing campaign. "More is Made Here" started with an idea to increase community understanding of economic development, what it looks like in Conroe with existing businesses and quality of life, and what role the CEDC plays. Using monthly themed features and social media activity, the campaign increases exposure to current businesses and Conroe's quality of life, which helps sustain employment, create jobs and improving the tax base.
A Bronze Award in Economic Development was awarded to the CEDC for its website modernization project in the General Purpose Website category. Purposely developed in partnership with the Golden Shovel Agency, the updated website contains essential economic development information in a modern, user-friendly layout. With an improved design, the new ConroeEDC.org allows visitors to quickly navigate the site to find resources and news.
"Recognition from IEDC highlights the story we tell every day about the economic and business benefits of locating and growing in Conroe," said Danielle Scheiner, Executive Director of CEDC.
"More is Made Here" and improved ConroeEDC.org have had a positive impact on CEDC's ability to tell Conroe's story to businesses looking to relocate or expand, as well as remind residents the conveniences and benefits of living and working in Conroe.
"I am pleased with the recognition of our staff's hard work and dedication to economic development in Conroe. These awards are outstanding achievements for our team to celebrate and will further motivate us to continue to find innovative and effective ways to communicate with our stakeholders," added Scheiner.
IEDC's Excellence in Economic Development Awards recognize the world's best economic development programs and partnerships, marketing materials and the most influential leaders of the year. Twenty-five award categories honor organizations and individuals for their efforts in creating positive change in urban, suburban and rural communities. IEDC received more than 500 submissions from the United States and four other countries around the world.
The CEDC was in competition with economic promoters representing populations of 25,000 to 200,000 inhabitants. The awards were announced at the IEDC annual conference in Oklahoma City on September 20. The awards were judged by a diverse panel of business and community developers.
"Communities need our profession more than ever. This year's winners exemplify the ingenuity, leadership and determination needed to meet the challenges of today and tomorrow. The recipients of IEDC's Excellence in Economic Development Awards represent the best in economic development and demonstrate the level of leadership that our profession strives for every day," said Nathan Ohle, President and CEO. of the IEDC.
"The selection process for this year's awards was particularly competitive. We are honored to recognize over 100 communities whose marketing submissions, projects and partnerships have improved the regional quality of life," added IEDC Awards Advisory Committee Chair Christina Winn.
The mission of the Conroe Economic Development Council is to build the strength and stability of Conroe's economy by supporting existing industry and attracting manufacturing and service businesses, which bring in new capital and business opportunities. employment in the community.
The International Council for Economic Development (ICED) is a non-profit, non-partisan organization serving economic developers. With over 4,800 members, IEDC is the largest organization of its kind. Economic developers promote the economic well-being and quality of life of their communities by creating, retaining and expanding jobs that facilitate growth, enhance wealth and provide a stable tax base. From public to private, rural to urban, local to international, IEDC members engage in the full spectrum of economic development practices. Given the breadth of economic development work, our members are employed in a variety of settings, including local, state, provincial, and federal governments, public-private partnerships, chambers of commerce, universities, and various other institutions. When we succeed, our members create high quality jobs, develop vibrant communities and improve the quality of life in their regions.