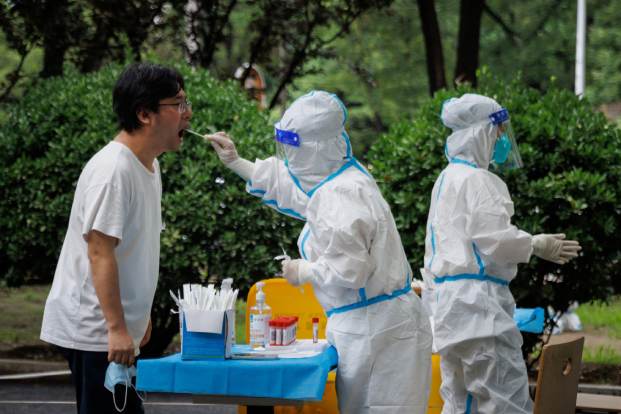 China's economy less affected than most by war in Ukraine, says OECD
China will emerge relatively unscathed from the effects of Russia's invasion of Ukraine compared to most other major economies, according to a report by the Organization for Economic Co-operation and Development (OECD).
Economic growth in China will drop to 4.4% in 2022 and rebound to 4.9% in 2023, according to the OECD.
This contrasts with the United States, where gross domestic product (GDP) growth will slow to 2.5% in 2022 and just 1.2% in 2023.
Japan's GDP figures are 1.7% in 2022 and 1.8% in 2023, while South Korea's growth will slow to 2.7% in 2022 and 2.5% in 2023. L he Australian economy is expected to grow by 4.2% in 2022 and 2.5% in 2023.
The report – "The price of war" – noted that the conflict in Ukraine and the supply chain disruptions exacerbated by the shutdowns in China due to its zero-Covid policy are dealing a serious blow to the global recovery.
Global GDP growth is now expected to slow sharply this year, to around 3%, and remain at a similar pace in 2023.
"Growth is expected to be significantly weaker than expected in almost all economies," the OECD said, noting that many of the hardest hit countries are in Europe, which is heavily exposed to war due to imports of energy and refugee flows.
Higher commodity prices
Countries around the world are being hit by rising commodity prices, which are adding to inflationary pressures and dampening real incomes and spending, further hampering the recovery.
But the report notes that China's large oil and grain reserves will soften the impact of rising global energy and food prices. Exports will remain relatively strong as companies continue to increase market share, the OECD added.
"The impacts of the war in Ukraine were mainly felt through the impact on global markets, as neither Ukraine nor Russia are significant economic partners for China," the report said.
"The release of edible oil reserves has brought food inflation under control, despite rising prices on international markets due to the war in Ukraine."
However, lockdown-induced fresh food supply constraints have started to push up the consumer price index, with headline inflation hitting 2.1% year-on-year in April, although inflation is under- underlying remained weak at 0.9%.
However, Chinese real estate investment will remain weak due to persistent developer defaults and lower price expectations.
While real GDP in India is expected to grow by 6.9% in FY 2022-23 and 6.2% in FY 2023-24, the report notes that India's economy is gradually losing momentum.
The OECD said that "Indian inflation expectations remain elevated due to rising global energy and food prices, monetary policy normalization and deteriorating global conditions."
READ MORE:
Iran wants a new currency for the Chinese bloc with 30% of global GDP
Japan must accelerate the switch to electric vehicles or face a drop in GDP – Electrek
China expected to hit 5.5% growth target: People's Daily