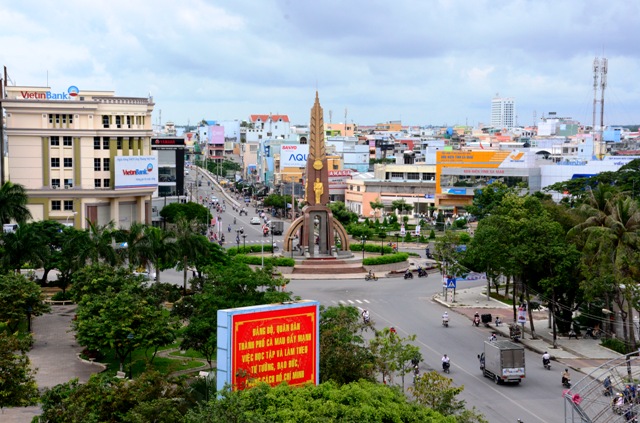 Cà Mau confident of achieving its economic growth targets
VIETNAM, July 19 – A view of the town of Cà Mau. The province of Cà Mau is striving to achieve an economic growth target of 7% this year. — Photo camau.gov.vn
HCM CITY — Despite the difficulties encountered, the southernmost province of Cà Mau experienced remarkable economic growth in the first half of the year and plans to achieve its economic growth target of 7% this year.
Preliminary figures from the Cà Mau Bureau of Statistics show that economic growth in the first six months was 4.23% year-on-year.
The agricultural, industrial and service sectors recorded growth of 6.41%, 0.61% and 7.03%.
Exports increased 53% to nearly $728 million, with seafood exports up 38% to $605 million and fertilizer exports up 229% to $122.5 million .
Huỳnh Quốc Việt, chairman of the province's People's Committee, said solutions to achieve socio-economic development goals for this year would be reviewed and completed, including the 7% economic growth goal.
The People's Committee will finalize the provincial plan for 2021-30 and submit it to the government for approval and focus on urban and rural planning and the development of three key townships, he said.
It would also seek to boost industrial production and trade, and promote exports to markets that have free trade agreements with Việt Nam, he said.
Cà Mau planned to strengthen the commercial promotion of agricultural products, in particular those made under the "One Commune-One Product" program, and to seek investment in its agro-forestry and fisheries sector, a- he declared.
Provincial authorities will closely monitor price movements to avoid the black market, he added.
He called on all government agencies to speed up administrative reforms to improve the province's investment environment and its position in the provincial Performance Index of Governance and Public Administration (PAPI) and the Index of public administration reform (PAR index).
The province would also strive to effectively implement a project to improve its business environment and strengthen its competitiveness in 2021 – 25 to improve its ranking in the Provincial Competitiveness Index (CPI) and better support businesses. , especially small and medium-sized enterprises and private companies. businesses that are struggling due to COVID-19, he added. —VNS
You just read:
Distribution channels:

EIN Presswire's priority is source transparency. We don't allow opaque clients and our editors try to be careful not to weed out false and misleading content. As a user, if you see something we missed, please bring it to our attention. Your help is welcome. EIN Presswire, Everyone's Internet News Presswire™, attempts to define some of the boundaries that are reasonable in today's world. Please see our editorial guidelines for more information.