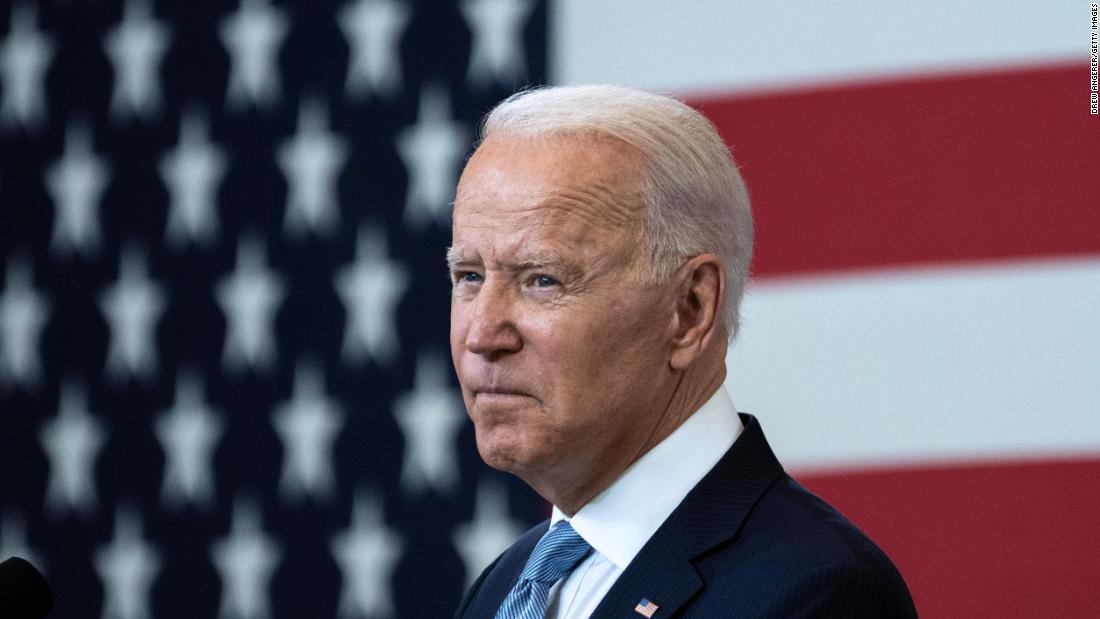 Biden aims to tackle inflation woes directly as broad agenda looms
Biden will use his scheduled economic remarks to tout a recovery that has seen accelerating growth and more than 3 million new jobs since taking office, as the country continues to recover from an economic shock triggered by a pandemic that pushed the US economy to the brink of collapse, according to a White House official.
The United States is forecast to achieve growth rates that have not been seen in decades – a point the White House attributes to the intertwined $ 1.9 trillion Covid relief law and an effort distribution of vaccines that led to the complete immunizations of more than 160 million Americans.
But Biden will also take the opportunity to try to disarm a line of attack that has resonated in recent weeks as inflation hits its highest level in 12 years and the US economy continues to emerge from what was. essentially a total freeze as the pandemic swept across the country, the official said.
Beyond the benefits the White House sees in the plans themselves from a direct political perspective, Biden will argue that his proposals are designed to increase the capacity of the economy and thereby reduce prices over time, a view that has led to the prospect inside the White House that rising prices should have no effect on changing their legislative course.
It's, in a sense, an effort to reverse the GOP's argument against its proposals – and directly counter an issue that Democrats on both sides of Pennsylvania Avenue say could threaten Biden's legislative goals.
For the president, these remarks come at a critical time for his $ 4 trillion economic program on Capitol Hill. The bipartisan group that helped craft the infrastructure framework has been working urgently over the past few days to reach a final deal ahead of a likely procedural Senate vote on July 21.
Senate Majority Leader Chuck Schumer, a Democrat from New York, also set a deadline for his members to come together around a second Democratic-only proposal that forms the backbone of the spending proposal and d most aggressive investment in a generation.
But legislative deadlines are coming as there is evidence of growing concern in the country over inflation and a clear effort by Republicans to use price increases as a weapon to try and derail Biden's push for his agenda. .
The Congressional Republican National Committee, the campaign arm of the House GOP, has launched efforts to target frontline Democrats on the issue on the political front, as senior Republicans attacked the impending proposal by only Democrats like totally unnecessary for an economy that has already been on the receiving end of trillions in emergency spending over the past 15 months.
"Our colleagues need to take this summer and think very carefully about what they are discussing," Senate Minority Leader Mitch McConnell, a Republican from Kentucky, said last week. "It would be difficult to imagine a proposal less suited to the conditions of our country at this stage."
It comes as economists on both sides have signaled that the data serves as a flashing warning sign on inflation, and as a Marist poll last month for NPR and PBS NewsHour showed that inflation has exceeded wages. and unemployment as the main public concern about the United States. economy.
The White House economics team has been monitoring the numbers closely and officials say they still firmly believe the data is both transient and more a result of the uneven emergence of the economy following a single supply shock – a shock that has created a series of supply chain bottlenecks and supply-demand mismatches that persist.
"The overwhelming consensus is that it's going to pop up a bit and then come back down," Biden said last month.
Yet White House officials admit that while they think the increases are a short-term problem, it's still a problem that will likely be present for months, if not longer. The 5.4% increase in the consumer price index in June – the largest year-over-year increase since 2008 – only underscored this point.
This is one of the main reasons for Biden's efforts on Monday to detail how White House economics officials believed his program would fit into this data if passed.
The President will outline that the scale of the two proposals – nearly $ 600 billion in new infrastructure spending and an emerging $ 3.5 trillion proposal designed to include significant investments in education, home care and healthcare. paid time off – would serve to create an enabling environment to keep prices low and stable, the official said.
Biden will focus on longer-term investments designed to allow a combination of more opportunities for Americans to enter the workforce, which in turn would increase the supply of goods, while also strengthening resilience of supply chains in a concerted effort to reduce production costs and the ability to bring goods to market.