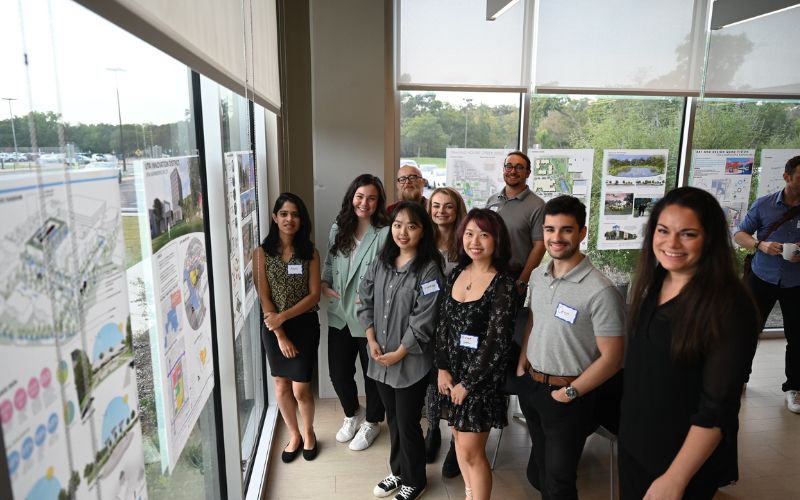 A Master Plan for Campus Sustainability – News Center
The Environmental Protection Agency said it plans to use the University of Texas at Arlington as a model for how to design work sessions for campus sustainability.
Last month, EPA and UT Arlington's College of Architecture, Planning, and Public Affairs hosted an EPA/UTA Campus RainWorks design charette exercise. A charette is a meeting in which all stakeholders attempt to resolve conflicts and develop solutions. Attendees included faculty, students, professional alumni, UTA facilities management staff, Office of Sustainability representatives, city of Arlington officials and consultants.
The EPA-funded pilot project brought together all stakeholders to discuss blue-green infrastructure and water planning on campus and the impact of climate change on these plans. The event also featured an exhibition of campus design interventions by five students from the Landscape Architecture program. Speakers included UTA President Jennifer Cowley and John Hall, UTA Vice President for Administration and Economic Development.
Clark Wilson, a green infrastructure specialist with the EPA's Office of Wastewater Management, said the federal agency hopes to use the UTA pilot exercise as a model for future events on university campuses nationwide.
"These events highlight how to start blue-green infrastructure projects," Wilson said. "It's a way to improve health, produce cleaner water, provide equity where needed and address the impacts of climate change.
Participants toured the campus to review landscaping projects. Afternoon sessions focused on stream restoration planning, stream health, watershed management, biodiversity, flood retention, climate change, trails and amenities.
The Campus RainWorks Challenge pilot program aims to engage the next generation of environmental professionals, foster a dialogue about the need for innovative stormwater management techniques, and showcase the environmental, economic, and social benefits of green infrastructure practices. .
Some of what stakeholders built during the charette exercise could be used to develop challenges and goals for the next Campus RainWorks Challenge. UTA CAPPA teams have won the EPA challenge twice and been awarded honorable mentions three times in the event's 10-year history.
Taner Özdil, associate professor of landscape architecture and associate research director at UTA's Center for Metropolitan Density, is the adviser to the RainWorks Challenge teams. The EPA/UTA core team for the pilot is made up of Wilson; a consultancy team led by Lot Locher with One Architecture and Urbanism; Özdil; Jeff Johnson and Don Lange of the UTA Facilities Management Team; Meghna Tare, Sustainable Development Manager at UTA; Arlington City Representatives Lyndsay Mitchell and Gincy Thoppil; and student representatives Hanan Boukhima and Oren Mandelbaum.
"These ideas serve as the beginning of real projects on campus, in Arlington and in the DFW community," Özdil said. "The Campus RainWorks Challenge served as a starting point for many of these ideas on campus. This exercise serves the same purpose.